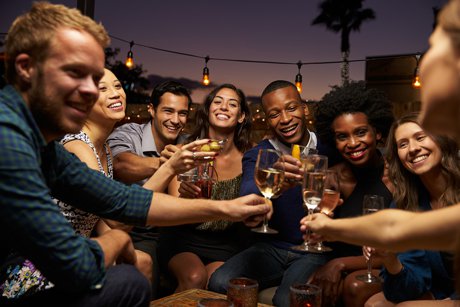 When hunger strikes folks living in Bluffton head on over to Old Town. Here a variety of restaurants fulfill any type of craving.
Weary eyes are wide open after a morning jaunt to The Corner Perk. Robust blends of regionally roasted coffees and loose leaf teas are perfect for waking up. A light menu features lovely breakfast and lunch options. Proudly wearing the title of "Best Coffee Shop in the Lowcountry" satisfaction is guaranteed. Brunch is served all week long and has earned quite a following.
Coastal cuisine fills the menu at The Pearl Kitchen and Bar. Menus are thoughtfully crafted with dishes composed of only the finest ingredients. A lively vibe flows through the venue with local musicians showing off their talent Thursday through Saturday evening. Contemporary dishes feature an array of fresh seafood, steak and "clean eating" cuisine. Outside dining is perfect for people watching in the historical Bluffton real estate district.
Live Music Flows From the Rooftop on Bluffton Real Estate
Captain Woody's celebrating 35 years and counting. Good times fill this local joint with neighbors and friends just hanging out enjoying live music. Drinks are served up at the bar and daily happy hour is a hit. The rooftop is the best place to be to soak up the scenery and the sustenance. Those who can't get enough of the captain can stop by a second location nearby in Hilton Head.
Living in Bluffton can get a bit spicy. When things heat up the destination is Mi Terra. Declared "the best little Mexican restaurant in the lowcountry" the menu holds a variety of Mexican food. Here chips are dipped and margaritas sipped while eager diners wait for their entrees to be placed before them.
After lunch or dinner many save room for a tasty treat. Desserts are decadent in Old Town Bluffton's very own European bakery. Taste sweets from around the globe at Twisted European Bakery. Specialties on the shelves include imported chocolates, hand dipped ice cream and pastries from Greece, Germany, Italy and France. There's always room for dessert in Bluffton!