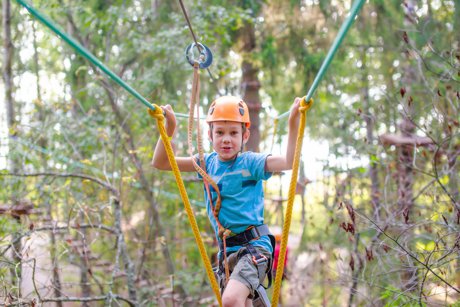 Living in Hilton Head is filled with adventure. Residents soar through the skies and soak up the sun. Brave souls find their way to Zipline Hilton Head where experts lend a hand with all of the fun. Thrill seekers have a variety of action packed excursions to choose from. Both aerial obstacle courses and zipline courses make for exciting times.
Climb to the treetops and get a bird's eye view with a Hilton Head Aerial Adventure. Playing high above ground is a one of a kind experience that gets the heart pumping and blood flowing. Participants head to the above ground play structure with energy levels rising along with elevation. A variety of courses range from easy to difficult and dare devils pick their poison.
Fly through the Trees on Hilton Head Property
Highlights include cross swinging bridges, obstacle walls, swaying tunnels and more. Courses are color coded. Green ranking places of play are great for youngsters and fun loving participants with not much of an athletic nature. Black marked courses are the most difficult to conquer and perfect for top athletes and determined competitors. Military inspired obstacles are found throughout this Hilton Head property course including walls to breach and slim tunnels to squeeze through.
When choosing the Hilton Head Ziplining Tour guests find themselves whisking through the treetops by flowing creeks and over marshes. There's over half a dozen ziplines to conquer with two hours to do it. A safety course precedes the undertaiking with a professional team making sure everything is in order. First timers living in Hilton Head breathe deep and jump off. Once free and flying the adrenaline rush is real. Beautiful live oaks and pine trees rush by as does glimpses of Broad Creek down below. Strong feelings of satisfaction and a desire to go again take hold at the landing. A 900 ft. elevated race sets the final scene for a trip well done.
Zipline Hilton Head is family friendly, and children living in Hilton Head are delighted with birthday party packages. Mom and dad get in on all the action climbing and ziplining along with their offspring. Happy staff members take care of all the details making it a win for everyone. Learn more here.